Settlement
It's official! Kingdom House is now officially Compound Impact's second impact home. Settlement passed without a hitch. Now on to the fun part…
With keys in hand, it's time to get right to work on the rehab so we can get two refugee families placed as soon as possible. Not only do we want to get our families into a safe home as soon as possible, but every week that the house is not rented is another week of expenses without income. In order to keep the project on track, we'll need to get it rented on time.
The contractors were able to walk through the property before settlement and develop a full scope of work for the repairs needed. A scope of work is a contractor term for a detailed list of all the work that needs to be completed on a given project. In total, repairs and upgrades for Kingdom House are projected to cost around $36,000.
Downstairs unit
The downstairs unit is a 1 bedroom/efficiency unit that has had a decent amount of work done in recent years. Some of the windows will need to be replaced as well as the back door. We'll also be doing some touch-ups to the bathroom in the basement. All the appliances are in pretty good shape including the fridge, oven, dishwasher, washer, and dryer. The floors are also in great shape.
In the basement, you can see the hot water heaters and boilers for both units. These often get confused with each other. Water heaters provide hot water for the sinks and general plumbing. In the picture below, the water heaters are the large cylinders connected to plumbing in the basement. A new unit can cost around $1000, but fortunately both Kingdom House's water heaters were recently replaced.
Boilers also heat water, but the water is circulated through the radiator system to provide heat for the house in the winter. In the picture below, the boilers are the rectangular boxes connected to plumbing at the bottom of the stairs in the basement.
While there are a variety of ways to heat houses, boilers are common in older homes in Philadelphia. A new boiler can cost $6,000 or more to replace. Unfortunately, one of the boilers will definitely need replacement in Kingdom House. While the other boiler is aged, it appears to be in good enough condition to avoid full replacement.
When we made our offer on the property, we accounted for these upgrades in our offer price. Fortunately, replacing a boiler is a significant upgrade that is likely to increase the value of the house by the time we are ready to apply for a mortgage during the refinancing stage.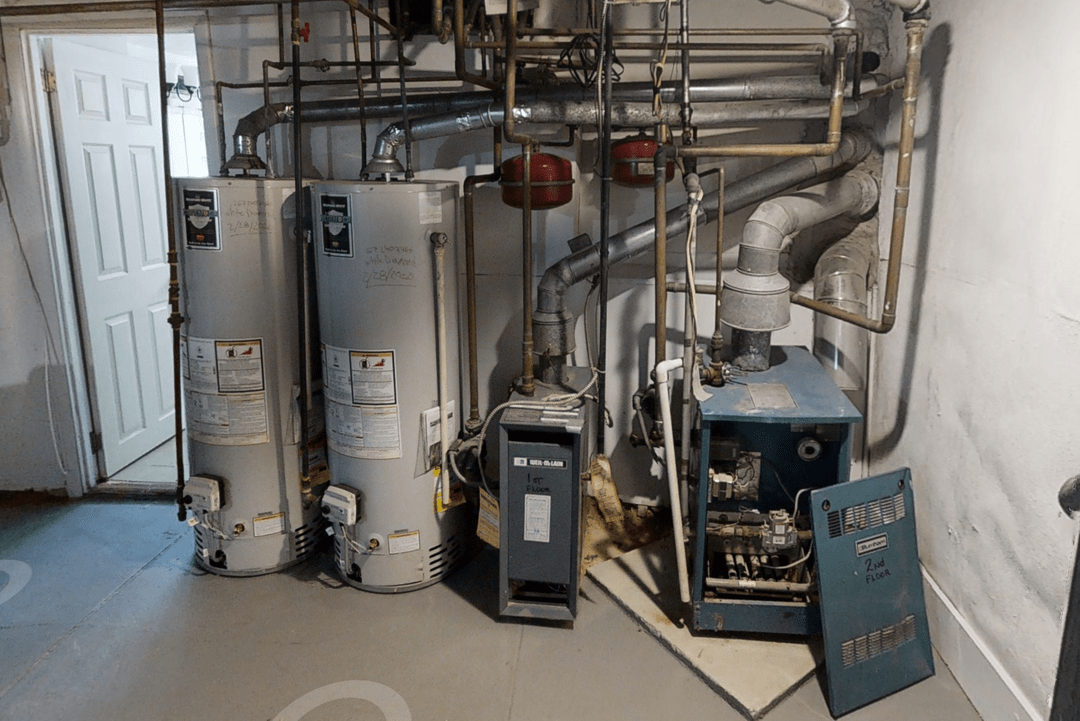 Upstairs unit
The upstairs unit has two bedrooms and is in need of a little more work than the downstairs unit. We will be making some significant repairs in the bathroom and installing laminate wood flooring throughout the unit. While carpeting is common, it is not a great choice for rental homes and requires frequent replacement, raising costs over the long term. Laminate flooring is a durable hard surface that resembles traditional hardwood flooring at a significantly reduced cost. Laminate holds up much better than carpet and is a mainstay for rental properties.
Aside from these major renovations, there will be a variety of smaller touch-ups throughout both units to make them look their best. Our goal is to provide a comfortable, safe home for our families and to achieve the highest property value with minimal expense. A higher property value means we will be able to finance a larger portion of the property with a mortgage during refinance, freeing up more cash to cover our short term financing.
In the end, that allows us to get this home operational with the least amount of cash invested.
What's Next?
It's rehab time. Our general contractor will be bringing in a number of subcontractors to complete a variety of upgrades and repairs over the next few weeks to get the house into top shape before move in day. At the moment, we are aiming to have families moving in around April 1st.
With a move-in day set, we will also begin to work with Bethany Christian Services, one of Philadelphia's major refugee resettlement agencies, to match families to our impact home.
At the same time, we'll also be completing a variety of logistical tasks such as applying for a rental license for the property and performing a lead inspection.